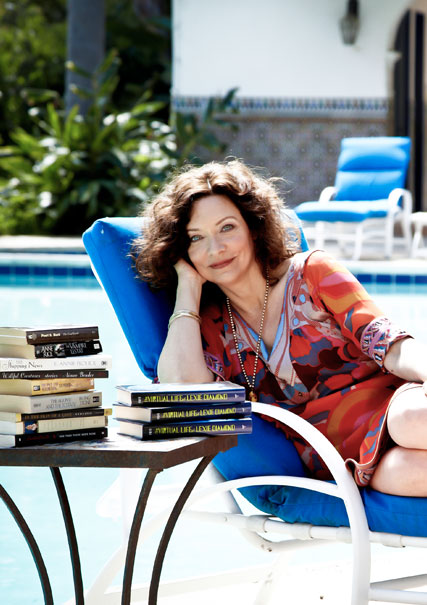 Victoria Foyt is an author and filmmaker. Her debut novel, The Virtual Life of Lexie Diamond, released in '07 by HarperCollins, is a Young Adult coming-of-age mystery thriller. It achieved excellent critical reviews, including a five star, "must-read" rating from TeensReadToo.com, and was recommended by the Center for Children's Books.
During her film career, Victoria co-wrote and starred in four critically acclaimed feature films, Going Shopping (2005), Déjà Vu (1997), Last Summer in the Hamptons (1995) and Babyfever (1994), which were helmed by indie film director Henry Jaglom. She also co-wrote Festival in Cannes (2001) and appeared in Venice/Venice (2002). She also has written articles for O At Home, Harper's Bazaar, and Film & Video.
AFI's Directing Workshop for Women awarded Victoria a place in its coveted program in 2002, which led her to write and direct a critically acclaimed short film, The Sweet Spot, starring Jennifer Grant and Carl Weathers. Variety critic Scott Foundas called it "a deliciously funny satire," and the film played on PBS on Hollywood: Fine Cut, as well as at many major film festivals.
Victoria has appeared on Good Morning America, Entertainment Tonight, E! Entertainment, HBO, CNN-TV, Showbiz Today, ABC Radio, Turner TV Entertainment Report, TNT Rough Cuts, and Westwood One Radio, and received extensive coverage on Siskel & Ebert. Local appearances have included HTTV Good Day LA, The KTLA Morning News, OLA TV Canada, CJRT Radio NY, WOR-Radio NY, and NBC Weekend Today-New York.
Victoria has been featured in Vogue Magazine, O at Home, Elle Magazine, Movieline, Venice Magazine, Avenue Magazine, Night Magazine, Moviemaker Magazine, The Los Angeles Times, The San Francisco Chronicle, La Opinion, Miami New Times, Dramalogue, and Backstage West, among others. She has hosted book signings and Q&A sessions around the country with forums up to 3000 people, as well as at many major film festivals, including Toronto, Jerusalem, London, Miami, New York and Los Angeles.
Raised in Coral Gables, Florida, Victoria attended the University of Miami and received her Bachelor of Arts in Spanish and French with a double minor in German and business. Later, she studied at the Neighborhood Playhouse in New York, the Beverly Hills Playhouse in Los Angeles, private acting classes with Geraldine Baron and many UCLA Extension film courses. She cites her primary literary influence as Ernest Hemingway, and counts Don Quixote and Gone with the Wind as two of her favorite books. Victoria currently lives in Santa Monica, California with her two children and a lot of books.